Mama Mia! Since October is National Pasta Month, we wanted to give a salute to one of America's favorite foods! In recent years, pasta has gotten a bad rap (think no carb diets) but we think that pasta dishes can actually be a healthy and filling meal, especially with some help from Jeff's Naturals all natural line of olives, peppers, capers and sun ripened tomatoes.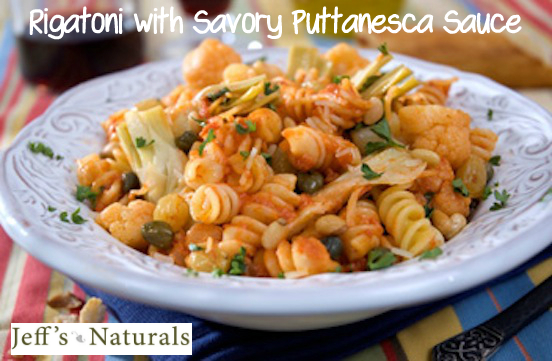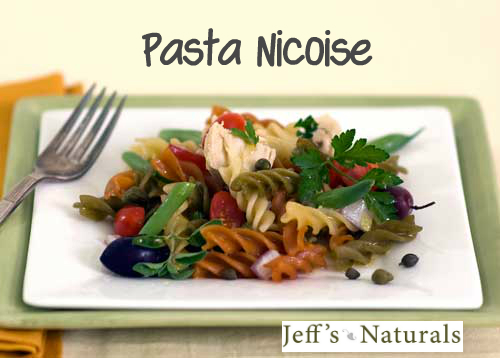 What's the secret to pasta perfection? It begins with cooking pasta itself. The National Pasta Association recommends the following steps to cook pasta perfectly every time:
1. Boil 4 to 6 quarts of water for one pound of dry pasta. (You can divide this recipe depending on how much pasta you are cooking.)
2. Add the pasta with a stir and return the water to a boil.
3. Stir the pasta occasionally during cooking.
4. Follow the package directions for cooking times. If the pasta is to be used as part of a dish that requires further cooking, undercook the pasta by 1/3 of the cooking time specified on the package.
5. Taste the pasta to determine if it is done. Perfectly cooked pasta should be "al dente," or firm to the bite, yet cooked through.
6. Drain pasta immediately and follow the rest of the recipe.
Reheating Pasta
To reheat cooked pasta, portion out the amount you need and place in boiling water. For extra-easy draining, you can place the pasta in a stainless steel colander or strainer and then submerge in boiling water. Count 40 to 60 seconds of re-heating time for a four-ounce serving. Drain the pasta well, toss with sauce and serve immediately. Pasta can also be reheated in the microwave oven. Reheat single servings on high for 45 seconds at a time, checking between intervals for doneness.
To create the perfect pasta dish, you must also pair it with the right sauce. The National Pasta Association recommends pairing thin, delicate pastas (like angel hair or thin spaghetti)are better served with lighter, thin sauces. If it's a heavier sauce you crave, it's better to stick with thicker pasta shapes, like fettuccine. Pasta shapes with holes or ridges, like mostaccioli or radiatore, are perfect for chunkier sauces.
Now that you know the basics, grab a fork and dig into our newest pasta recipe using Jeff's Naturals!
Jeff's Naturals Mediterranean Pasta
Prep Time: 5 min.Total Time: 10 min.Serves: 4

3 tablespoons Olive Oil
1 pound skinless boneless chicken breasts, sliced diagonally
1 cup Jeff's Naturals Sun-Ripened Dried Tomatoes, drained, julienned
2 Tablespoons crushed garlic
1 pound angel hair pasta, fresh
1/4 cup fresh basil
1 jar (6.5 ounces) Artichoke Hearts, drained
1/2 cup Jeff's Naturals Organic Sliced Greek Kalamata Olives, drained
6 ounce crumbled feta cheese
1/4 cup heavy cream
2 teaspoon dried oregano
Salt and pepper, to taste
PREPARATION
Boil water for pasta. Heat olive oil in a skillet over medium heat. Brown chicken strips until no longer pink in the middle, about 3 minutes on each side. Add sun dried tomatoes and crushed garlic to skillet. Sauté for 2 minutes. In the meantime, add the fresh pasta to the boiling water, cook until al dente, about 5 minutes.
Add the basil, artichoke hearts, Kalamata olives and crumbled feta cheese to the skillet. Sauté 1 minute. Stir in cream. Strain pasta and transfer to a large pasta bowl. Add the chicken sauté to the pasta and toss.
Season with oregano, salt and pepper before serving.
Visit National Pasta Association to see these and other great pasta cooking tips!