Prep Time: 10min | Total Time: 1 hour 10min | Serves: 8-10
Capers and red wine bring out the natural flavors of tomatoes and artichoke hearts and herbs in this classic Mediterranean recipe.
Ingredients
12 oz. rigatoni, uncooked
1 Tbsp. Extra Virgin Olive Oil
1 medium onion, chopped
2 Tbsp. crushed garlic
1 Tbsp. oregano
2 jars (6.5 oz. each) Artichoke Hearts, drained
1 tsp. anchovy paste
2 c. (28 oz. can) tomatoes
1/2 c. dry red wine
1/2 tsp. red pepper flakes
1/2 c. parsley, chopped (optional)
Directions:
Cook rigatoni in boiling water for 10 minutes or until tender. Heat olive oil in a large saucepan. Add onion and garlic and cook until the onion is tender. Add oregano and artichoke hearts and anchovy paste, stir for one minute. Add tomatoes, capers and red wine and stir to break up the tomatoes into large pieces. Bring to boil, and then reduce heat to simmer.
Cover and cook over low heat for 15 minutes. Add olives and red pepper flakes. Cover and cook for about 10 minutes more.
Related Products
Organic Sliced Greek Kalamata Olives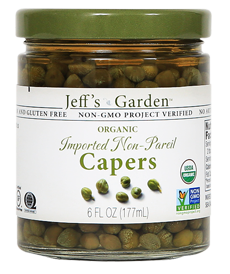 Organic Imported Non-Pareil Capers