When was the last time you enjoyed a really good tuna salad sandwich? Like a really, incredible, gourmet tuna sandwich? Perhaps it is time to give this classic lunchbox staple an upgrade.
You will be amazed how delicious and satisfying a tuna sandwich can be! Simply adding wholesome flavorful ingredients like fresh veggies and Jeff's Naturals Imported Non-Pareil Capers, Roasted Bell Pepper Strips and Organic Sliced Greek Kalamata Olives can take an otherwise ordinary sandwich to a whole new level.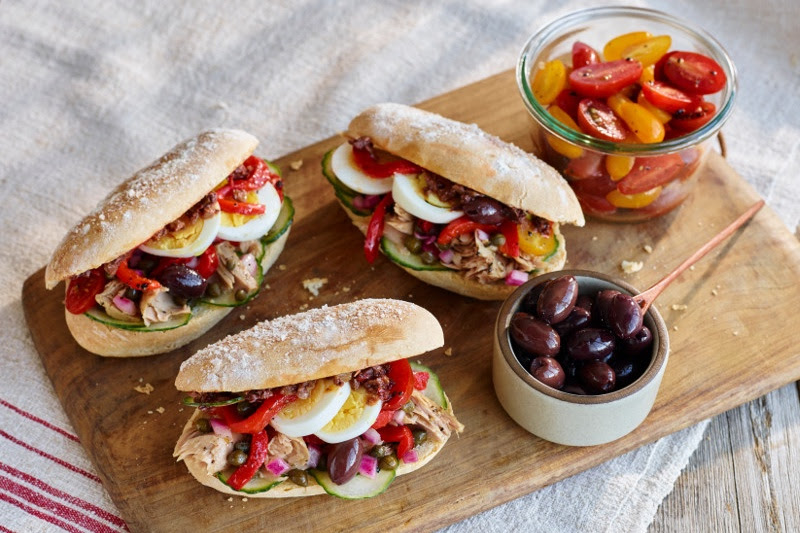 Jeff's Mediterranian Tuna Salad Sandwich
Prep Time: 7 min.
Total Time: 10 min.
Serves: 2
INGREDIENTS
2 (8 inch) crusty rolls, sliced in half horizontally
2 cans (5 ounces each) tuna packed in olive oil1½ tablespoons red wine vinegar
2 tablespoons Jeff's Naturals Imported Non-Pareil Capers, drained
2 tablespoons diced red onion
1/3 English cucumber, thinly sliced
2 hard-boiled eggs, sliced thinly
4 Jeff's Naturals Roasted Bell Pepper Strips
Cherry tomatoes, for garnish
Jeff's Naturals Organic Sliced Greek Kalamata Olives, for garnish
PREPARATION
Remove some of the soft interior of the rolls to allow for the sandwich filling and set aside.
In a medium bowl, mix together the tuna with its oil, red wine vinegar, capers and onion. Set aside.
To assemble the sandwiches, spread the tuna on the roll, top with sliced cucumber, egg and roasted red peppers. Serve with cherry tomatoes and olives.