We love avocado toast in the morning, at lunch, in the afternoon, for a late evening snack or appetizer. You can never go wrong with this tasty and simple snack idea. As perfect as we think avocado toast is, why not elevate it by adding wholesome Mediterranean ingredients like from our all-natural line of olives, peppers, artichoke hearts, capers and sun-dried tomatoes?
This "toast with a twist" is light enough for spring and summer gatherings but hearty enough to satisfy any appetite. Get creative and prepare one topping or all of them for a vivid and tasty sampler!
AVOCADO TOAST SAMPLER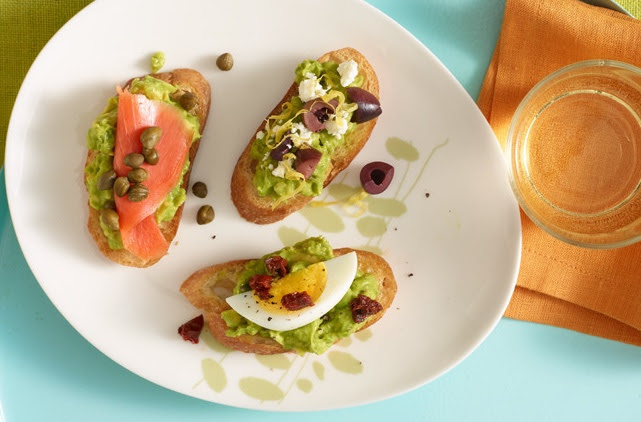 Prep Time: 10 min.Total Time: 20 min.Serves: 16
INGREDIENTS
1 small baguette (4 ounces)
2 tablespoons Extra Virgin Olive Oil
1 large ripe avocado
1 teaspoon fresh lemon juice
Coarse salt and freshly ground pepper
Toppings (each tops 4 toasts):
2 teaspoons Imported Non-Pareil Capers, drained
2 slices smoked salmon, about 1 ounce
1 extra-large hard-boiled egg, sliced
2 tablespoons Sun-Ripened Dried Tomatoes, coarsely chopped
2 tablespoons Roasted Bell Pepper Strips, coarsely chopped
2 teaspoons finely chopped fresh basil
2 tablespoons Organic Sliced Greek Kalamata Olives, coarsely chopped
2 tablespoons crumbled feta
2 teaspoons lemon zest
PREPARATION
Preheat oven to 350°. Slice baguette diagonally into sixteen ½-inch slices. Brush both sides with the olive oil. Transfer to a baking sheet and bake until golden, about 8 minutes.
Halve avocado lengthwise and remove pit; scoop flesh into a small bowl. Add lemon juice, salt and pepper and mash to a chunky paste. Spread on toasted bread. Top with your preferred topping (or all of them!) along with a dash of coarse salt.