Now that the cooler temperatures are upon us, it's time to enjoy the delightful savory flavors of fall! This simple one-pot meal is perfect for warming up and savoring seasonal ingredients like butternut squash and roasted red peppers. Whether you need a quick and wholesome weeknight dinner or a satisfying dish for game day- you deserve to indulge in this comfort food favorite.
Jeff's Savory Turkey & Butternut Squash Chili
Prep Time: 7 min.
Total Time: 40 min.
Serves: 4-6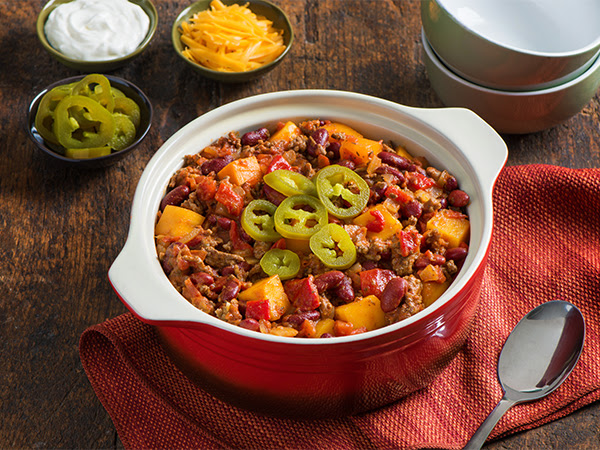 INGREDIENTS
2 tablespoons Extra Virgin Olive Oil
1 pound ground turkey
1 onion, chopped
1 chili seasoning packet
2 cups chicken stock
2 cups Marinara Sauce
3 cups cubed butternut squash, peeled
1 (16-ounce) can kidney beans, drained and rinsed
½ jar Roasted Bell Pepper Strips, roughly chopped
Optional toppings: Shredded cheddar cheese, sour cream, Sliced Tamed™ Jalapeños.
PREPARATION
In a large dutch oven or heavy-bottomed stock pot, heat olive oil over medium-high heat. Add turkey and cook for about 5 minutes, breaking up the meat into small pieces with a wooden spoon. Once cooked, add onion and cook another 5 minutes, stirring often, until softened. Add the remaining ingredients and simmer for about 20 minutes or until squash is cooked and tender.
Serve hot with toppings of your choice.