Back in November, we asked our fans to submit their favorite recipe & photo using Jeff's Naturals products for a chance to win some cash and some Jeff's Naturals goodies. Lucky for us, Emily from One Lovely Life  shared her delicious and super simple Black Bean & Chipotle Stuffed Potato recipe and photo. "One of my favorites," she writes. "Such an inexpensive and easy meatless dinner. Use your favorite taco toppings to build an amaaaaazing potato."
This recipe is a fantastic way to enjoy our Roasted Bell Pepper Strips and Sliced Tamed™ Jalapeños. It also reveals Emily's fail-proof method for baking the perfect sweet potato. Read One Lovely Life's post, 6 Amazing Ways to Stuff a Baked Sweet Potato for more creative ideas.
Black Bean & Chipotle Stuffed Potato
Recipe by One Lovely Life
Note: There are no measurements to track, all you have to do is stuff your potato according to your individual tastes.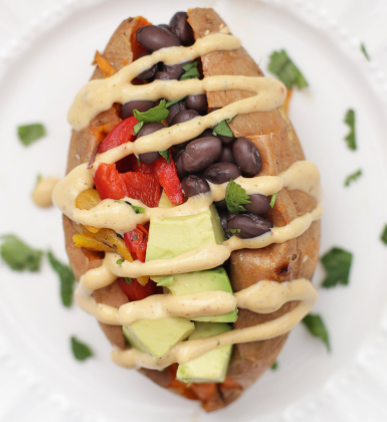 Ingredients:
Sweet potatoes (however many you'd like to bake)
Olive oil
Kosher salt
Black beans
Avocado
Jeff's Naturals Roasted Bell Pepper Strips
Chipotle Ranch Dressing
Baby tomatoes (optional)
Jeff's Naturals Sliced Tamed™ Jalapeños (optional)
Directions:
Preheat the oven to 375 degrees.
Wash all potatoes and stab with a fork or a knife several times each (6-8 times at least).
Rub each potato with a thin layer of olive oil and sprinkle with kosher salt and place on baking sheet to prevent spills. You can place them directly on the rack if you like.
Bake 45-60 minutes, or until you can pierce them easily with a knife.
Make a slit lengthwise end-to-end across the top and fluff the inside with a fork. Stuff with toppings: black beans, avocado, peppers, Chipotle Ranch Dressing and (optional) tomatoes & Jalapeños.
Visit One Lovely Life for more delicious ideas and recipes.