This month, we're featuring a sandwich that is both delicious and packed with nutrients. This Grilled Portobello Sandwich is so hearty and tasty, even hardcore meat-eaters will love it!
Grilled Portobello Sandwich
Prep Time: 5 minutes
Total Time: 10 minutes
Serves: 2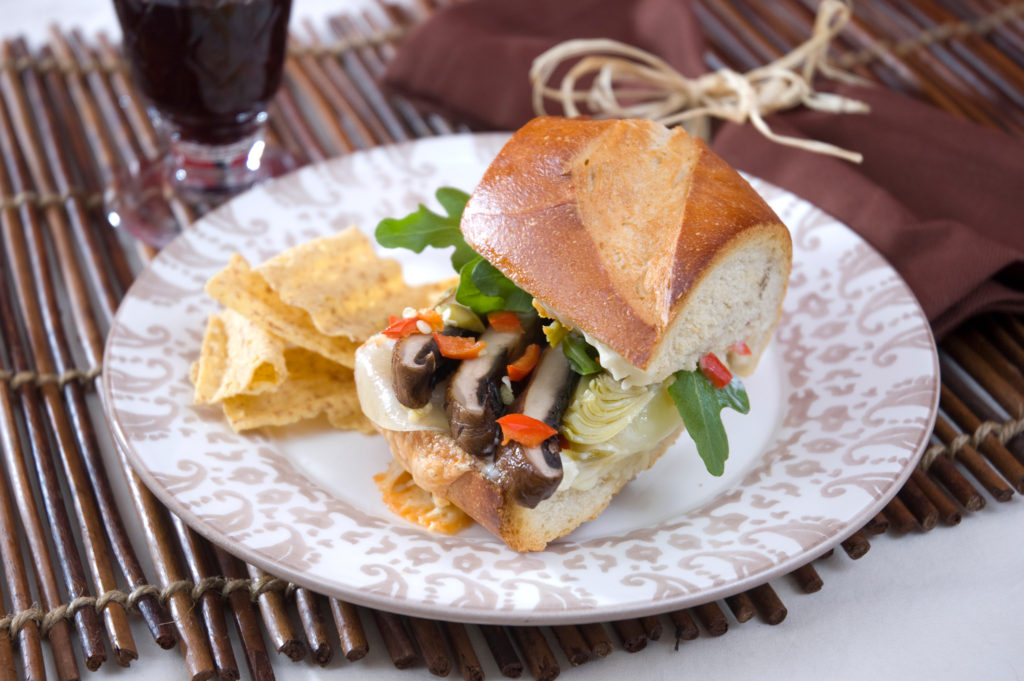 INGREDIENTS
1/2 c. aioli
1 jar Jeff's Garden Marinated Artichoke Hearts (drained)
2 T. Jeff's Garden Sliced Hot Cherry Peppers (diced)
1 T. grated lemon zest
4 medium Portobello mushroom caps
4 T. Extra Virgin Olive Oil
1 tsp. salt
1 tsp pepper
1 French baguette
4 slices provolone cheese
1 small bunch arugula (stems discarded)
PREPARATION
Heat a grill on medium-high. Brush the olive oil on to the mushroom caps and season with salt & pepper. Grill until tender, 4-6 minutes.
Cut the baguette into 4 equal portions. Combine the aioli and lemon zest. Spread onto the inside of the baguette.
Cut the grilled mushroom into 1/2" thick slices. Layer the mushrooms, cheese, artichoke hearts, and peppers evenly among the sandwiches.
Wrap the sandwiches in heavy duty aluminum foil. Place them back on the grill for 5 minutes, or until cheese has melted. Divide the arugula among the sandwiches. Serve immediately, while still hot.