The Jeff's Garden family had a wonderful surprise this week! Imagine our glee when we opened the October 2018 issue of Martha Stewart Living Magazine and happened upon an article about actress Tracee Ellis Ross where she claims to be a fan of our Castelvetrano Olives! It just so happens that we are also huge fans of Tracee Ellis Ross- what a wonderful coincidence!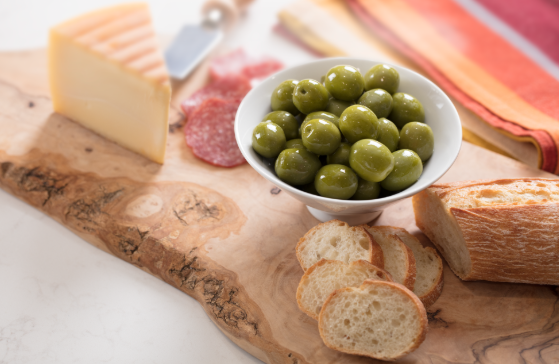 We have to put our giddiness aside for a moment to brag about these delicious treats boasting a unique nutty, buttery flavor, mild brine, and wonderful natural green color! These memorable olives are a favorite snack olive in Italy and growing in popularity in the United States.
Jeff's Garden Castelvetrano Olives are ideal for elevating a variety of recipes any time of the day (or for snacking straight from the jar like Tracee Ellis Ross)! Here are a few easy ways to enjoy this delicious treat around the clock.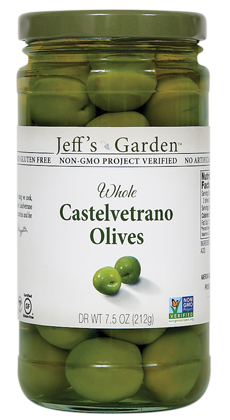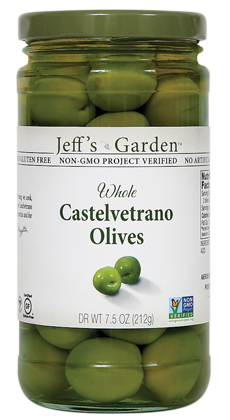 BREAKFAST
Enjoy them first thing in the morning with this simple Mediterranean inspired Baked Eggs with Olives dish.
LUNCH
Make your lunch hour your "power-hour" and fuel up with energizing and satisfying Heirloom and Castelvetrano Tuna Salad
DINNER
Add flavor to braised meat dishes by adding Castelvetrano Olives and elevate your dinner table with elegant side dishes like this Spring Farro & Castelvetrano Salad & Kale & Citrus Salad using fresh, seasonal veggies and herbs.
Create this fast & easy side dish by adding pitted, sliced Jeff's Garden Castelvetrano Olives to hot couscous, along with salt, pepper, lemon juice, olive oil, sliced green onions, and chopped flat-leaf parsley. You can also create a delightful salad by tossing pitted Castelvetrano Olives with mixed baby greens, orange sections, shaved fennel and a light lemon vinaigrette.
SNACKTIME
Serve Jeff's Garden Castelvetrano Olives as a quick and addictive snack by themselves or alongside Spanish Marcona almonds and Manchego cheese.
Stir a splash of white wine into basil pesto and toss with a bowl of Castelvetrano Olives to for a unique and flavorful snack. You can also deepen the flavor of Castelvetrano Olives by roasting them in the oven before serving. For color, sprinkle in a bit of orange zest and serve warm!
Host your own happy hour and serve Cheese Stuffed Fried Green Olives and a Castelvetrano'tini. Cheers!