Prep Time: 10 min. | Total Time: 20 min. | Serves: 2
Ingredients
For the Salad:
2 heads fennel, sliced into ¼" slices
Extra virgin olive oil for drizzling
2 oranges, with peel and pith removed
½ c. Jeff's Garden Organic Pitted Whole Greek Kalamata Olives, drained and rough chopped
Salt and freshly ground pepper
1 Tbsp. chopped parsley
Shaved parmesan to garnish
For the Dressing:
1 Tbsp. Champagne vinegar
2 Tbsp. extra virgin olive oil
1 Tbsp. minced shallot
Salt and freshly ground pepper
Directions
Preheat grill to high heat.
Drizzle sliced fennel with olive oil, season with salt and pepper and grill on each side until nice grill marks have developed, about 5 minutes each side.
Prepare the oranges by cutting the segments out in between the membranes. To the orange juice, add the segments, kalamata olives, and parsley. Add the grilled fennel and toss.
In a small bowl, whisk all dressing ingredients together and pour over fennel salad. To serve, garnish with parmesan shavings.
Related Products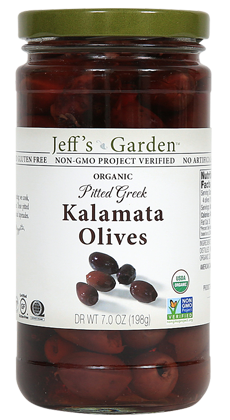 Organic Pitted Greek Kalamata Olives