Prep Time: 5 min | Total Time: 30 min | Serves: 4-6
Ingredients
2 tablespoons Extra Virgin Olive Oil
½ yellow onion, small diced
1 carrot, peeled and small diced
1 stalk celery, small diced
2 cloves garlic, minced
1 tablespoon tomato paste
½ teaspoon smoked paprika
2 jars Jeff's Garden Roasted Bell Pepper Strips, drained and rinsed
4 cups (1 quart) low sodium chicken stock
2 tablespoons butter
¼ cup heavy cream
½ tablespoon Sherry vinegar
Salt and freshly cracked black pepper to taste
Optional garnishes – drizzle with crème Fraiche, Olive Oil and chopped chives
Directions:
In a large stockpot on medium-high heat, add olive oil, onion, carrot, and celery. Season with salt and pepper and cook for about 10 minutes, stirring often, until vegetables are soft.
Add the garlic, tomato paste, and smoked paprika and cook another 2 minutes, stirring continuously. Add the roasted red peppers and chicken stock, bring to a simmer and cook for about 10 minutes.
Puree the mixture using a hand immersion blender or a countertop blender. If using a countertop blender, in batches, carefully add hot ingredients into the blender, vent the lid and cover the top of the blender lid with a kitchen towel. Start the blender on low and gradually increase the speed to high.
Add butter, heavy cream and vinegar and blend again, starting on low and gradually increasing the speed, until the soup becomes a light orange-red color and well combined.
Season with salt and pepper to taste. Serve hot with optional crème Fraiche, olive oil, and chive garnishes.
Related Products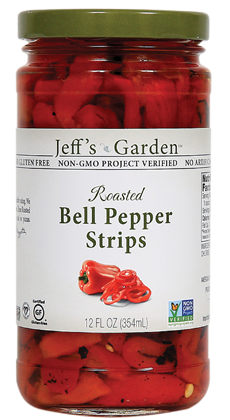 Roasted Bell Pepper Strips