Prep Time: 15min  |  Total Time: 40min  |  Serves: 6
Ingredients
Directions:
Preheat oven to 425º F.
Prep a muffin tin by lightly oiling the inside of every other cup. Divide pizza dough into 6 pieces. Lightly dust kitchen counter with flour and roll out each piece of dough to about 6 inch rounds. Line every other muffin cup with the dough and press into the molds around the sides and bottom.
Drizzle olive oil to coat a sauté pan on medium high heat. When hot, onion, mushrooms, and garlic; sauté about 7 minutes or until vegetables are tender. Drain vegetables of any excess liquid.
To prevent mini deep dish pizzas from being soggy on the bottom, first sprinkle mozzarella cheese, then add Roasted Bell Pepper Strips, Kalamata Olives and sautéed vegetables. Next, spoon some pizza sauce inside the cup and top with a few more pieces or shredded mozzarella, if you choose.
Use a pastry brush and lightly oil the edges of the pizza crust. Place into the oven and cook about 15 minutes or until crust is golden brown. Remove from cups when cool enough to handle.
Related Products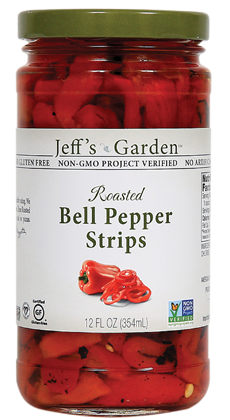 Roasted Bell Pepper Strips
Organic Sliced Greek Kalamata Olives