---
Prep Time: 15 minutes |Total Time: 30 minutes |Serves: 6
Ingredients
1 jar (12 ounces) Jeff's Garden Spicy Italian Olive Antipasto, liquid reserved
1 pound cocktail shrimp, precooked
1 cup cantaloupe, diced
2 stalks celery, thinly sliced
1/2 small red onion, diced
1 cup mayonnaise
1 teaspoon ground cumin
Juice of 1 lime
3 Roma tomatoes, sliced
1 head Red Romaine lettuce
6 sandwich rolls, toasted
Directions:
Drain and chop the olives, reserving the liquid. In a mixing bowl, combine the olives, shrimp, cantaloupe, celery and onion. Stir together.
In a separate bowl combine the mayonnaise, cumin, lime juice and 2 tablespoons of reserve liquid from the jar of olives.
Whisk the mixture together and then stir it into the shrimp salad. Toast the rolls in a 350°F oven for 5 minutes, or until warm and crisp on the outside. Cut the rolls in half.
Divide the lettuce, jalapeños, and tomato slices evenly among the rolls. Top with a generous scoop of the shrimp salad.
Secure the top of the roll with a toothpick and serve.
Related Products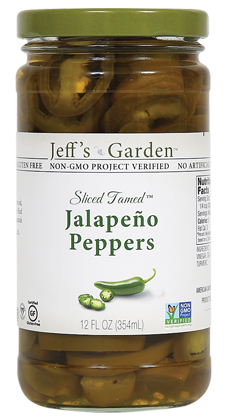 Sliced Tamed Jalapeños