Prep Time: 15min | Total Time: 20min | Serves: 4
Ingredients
4 Tbsp. crumbled Gorgonzola cheese
1 Tbsp. minced garlic
3 Tbsp. Jeff's Garden Organic Imported Non-Pareil Capers, rinsed, drained, and chopped
2 Tbsp. dry toasted pine nuts (pignolias)
1/2 tsp. fresh-ground black pepper
6 Tbsp. Extra Virgin Olive Oil (EVOO)
1 Italian ciabatta loaf, cut into 4 pieces
8 oz. prosciutto (plain, not smoked)
1 ripe Bartlett or Anjou pear, sliced into thin wedges
1 bunch fresh spinach, washed and chopped
A few sprigs fresh basil, main stems trimmed off
Sea salt, to taste*
Directions:
Pre-heat the oven to broil.
In a small bowl, combine the Gorgonzola cheese, crushed garlic, non-pareil capers, pine nuts, 1/2 teaspoon black pepper, and 4 tablespoons of the olive oil. Mix well, and set aside.
Spread one side of each sandwich roll with 2 tablespoonfuls of the Gorgonzola cheese mixture.
Next, layer each sandwich with 2 oz. prosciutto, 3 slices of pear, and some roasted red bell pepper strips.
Top each sandwich with several spinach leaves plus a few basil leaves. Drizzle the greens with a dash each, olive oil, sea salt, and additional black pepper, if desired.
Fold the sandwiches closed, and broil, on the center rack, for about 5 minutes, or until bread is just toasted. Enjoy!
Related Products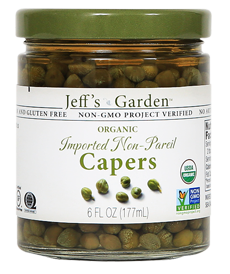 Organic Imported Non-Pareil Capers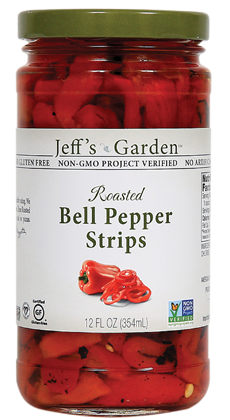 Roasted Bell Pepper Strips