Prep Time: 5min | Total Time: 30min | Serves: 6-8
Ingredients
¾ lb. elbow macaroni, cooked to package instructions
3 Tbsp. butter
3 Tbsp. flour
3 c. whole milk
2 c. Italian Blend shredded cheese, divided
2 c. white sharp cheddar, divided
1 Tbsp fresh garlic, chopped
2 Tbsp parmesan cheese
1 tsp. salt
Cracked black pepper
2 c. fresh baby spinach, packed
2 jars Jeff's Garden Marinated Artichoke Hearts, roughly chopped
Topping
1/4 c. panko bread crumbs
2 Tbsp. butter, melted
Directions:
Preheat oven on broiler.
In a medium sauce pan, on medium high heat, add butter and flour, and stir until for 2-3 minutes while mixture bubbles. Slowly whisk in milk until fully incorporated.  Whisk and cook mixture for about 7 minutes, until it thickens and bubbles.
Turn heat off; stir in garlic and parmesan, 1 c. each cheese.  Add salt and pepper to taste.
Pour over cooked macaroni, stir in spinach, artichokes, and remaining shredded cheese.
Place into a baking dish and sprinkle panko topping on top. Place under broiler for a few minutes until breadcrumbs are golden brown.
Related Products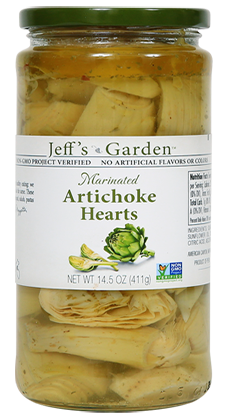 Marinated Artichoke Hearts