Prep Time: 15min | Total Time: 4hr 15min | Serves: 12
Ingredients
4 c. or 2 jars marinara sauce
2 c. water
2 zucchini, diced into 1/2″ cubes
1 medium onion, diced
1 yellow squash, diced into 1/2″ cubes
1/2 eggplant, diced into 1/2″ cubes
16 oz. Jeff's Garden Sliced Golden Greek Peperoncini, drained
30 oz. ricotta cheese
1 tsp oregano
1/4 c. parmesan cheese, grated
1/4 c. mozzarella cheese, shredded
pinch of salt and pepper, to taste
16 oz. lasagna noodles (regular, not oven-ready)
16 oz. mozzarella cheese, shredded
non-stick spray
Italian parsley, for garnish (optional)
Directions:
In a large saucepan, bring the marinara sauce and 2 c. water to a simmer. Add the zucchini, onion, squash, eggplant and peperoncini and stew, on low, for 5-10 minutes.
In a medium-sized bowl, combine the ricotta, oregano, parmesan and mozzarella. Season with a pinch of salt and pepper, to taste.
Spray the inside of a 2.5 qt. casserole crock pot* with non-stick spray and spread a thin layer of the sauce on the bottom. Place the lasagna noodles on top in a single layer. Some overlap is fine.
Spread about 1/3 of the ricotta mixture on top, then spoon the vegetable and sauce mixture on top of that. Sprinkle with a layer of mozzarella cheese.
Repeat this process two more times, ricotta, vegetables and sauce and mozzarella cheese.
On the top layer, place lasagna noodles, the remainder of the sauce and vegetables, then mozzarella cheese.
Cover and cook on high for 4 hours. Garnish with chopped Italian parsley (optional) and serve warm.
Related Products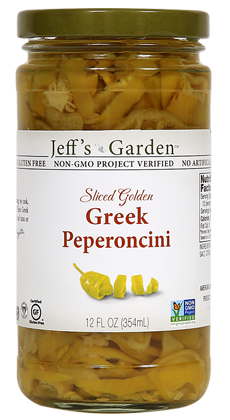 Sliced Golden Greek Peperoncini