Prep Time: 35 min.  |  Total Time: 2 hrs.  |  Serves: 8
Ingredients
8 small game hens
4 boxes cornbread stuffing (preferably Mrs. Cubbisson's® Stuffing)
1 small yellow onion (diced)
2 jars Jeff's Garden Roasted Bell Pepper Strips, (drained)
1 c. roasted chestnuts
1 c. celery (finely chopped)
1 Fuji apple (diced)
1 c. dried apricots
1 Tbsp. fresh thyme
2/3 c. Extra Virgin Olive Oil
1/4 tsp. crushed garlic
7 c. chicken broth
1 c. white wine
1 Tbsp. salt
1 tsp. black pepper
*Calculated ingredients may not always be as accurate as the original recipe.
Directions
Preheat your oven to 375º F.
In a food processor combine 2 cups of chicken broth with half a cup of olive oil and 1 jar of roasted red peppers. Blend until smooth. Add the wine and salt and pepper, blend for 1 more minute. Set aside.
In a sauté pan, combine the remaining olive oil and the onion. Cook until the onions are translucent.
Add the thyme, remaining jar of red peppers, celery and apple. Saute for 5 minutes. Remove from the heat and add the chestnuts, apricots and stuffing mix. Add the remaining chicken broth to the stuffing.
Fill the birds with the stuffing and brush with the roasted pepper sauce.
Bake for 1 hour. Increase the heat to 500º F and bake for an additional 20 minutes.
The birds are ready when crisp and golden on the outside and the juices run clear when pierced.
Allow the game hens to rest for 10 minutes before serving.
Related Products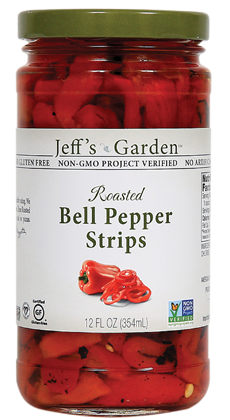 Roasted Bell Pepper Strips