This crowd-pleasing Mediterranean Grilled Platter combines the bold flavor of Jeff's Garden Roasted Bell Pepper Strips and Marinated Artichoke Hearts with delicious grilled veggies and chicken breast.
Prep Time: 15 min | Total Time: 35 min | Serves: 4
Ingredients
1 lb. chicken breast, pounded out to about 1" thick for even cooking
1 medium eggplant, cut into ½" slices
2 small zucchinis cut in half
1 c. Jeff's Garden Roasted Bell Pepper Strips, drained and cut into large chunks
1 jar Jeff's Garden Marinated Artichoke Hearts, drained
1 lemon, halved
½ c. fresh ricotta
1 Tbsp. fresh thyme leaves
1 medium red onion, cut into ½" rounds
Extra virgin olive oil to drizzle
Directions:
Preheat grill to high heat. On a large baking tray, season chicken and veggies with salt and pepper. Drizzle olive oil to lightly coat the chicken and veggies. Grill chicken on each side for about 5 minutes and remove from grill and set aside. Grill the veggies for 5-10 minutes until charred and tender. Once all veggies are cooked, remove from grill and cut into large chunks.
Grill the lemon briefly until it has grill marks. Cut the chicken into half-inch slices.
To plate; place couscous on a large platter. Neatly arrange the sliced veggies, Roasted Bell Pepper Strips, and Artichoke Hearts. Add dollops of ricotta throughout the dish and sprinkle with thyme. Place chicken on a platter, squeeze the grilled lemon over top with a nice drizzle of olive oil and serve!
Related Products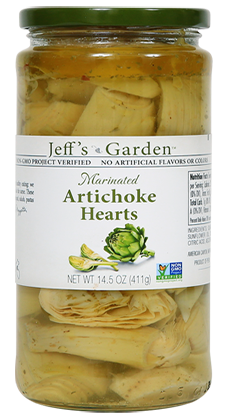 Marinated Artichoke Hearts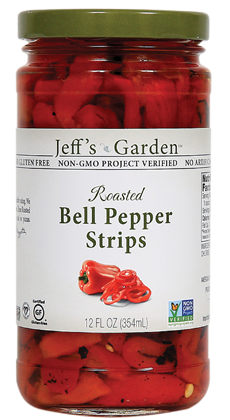 Roasted Bell Pepper Strips