Prep Time: 10 min  |  Total Time: 25 min  |  Serves: 4-6
Ingredients
For the Pesto:
1 c. Italian fresh parsley leaves
1/3 c. basil leaves
2 tsp. crushed garlic
1/2 c. + 1 tsp. extra virgin olive oil (divided)
1 Tbsp. fresh lemon juice
1/3 c. toasted pine nuts
Salt and pepper to taste
For the Salmon:
6 salmon 5 oz. each
Salt and Pepper to taste
Lemon wedges for garnish
Directions:
Place all pesto ingredients in food processor and blend until thoroughly mixed into a textured pesto sauce.
Season 5 oz. salmon with salt and pepper. Drizzle roasting pan with olive oil and place salmon over it.
Spread pesto on the salmon and roast in oven at 375° F for about 10 to 12 minutes.
Squeeze fresh lemon on salmon just before serving.
Chef Notes: Also very good for sea bass, grilled steak, grilled shrimp and grilled chicken. Use as a spread on toasted bread topped with Jeff's Garden Roasted Bell Peppers Strips and goat cheese.
Related Products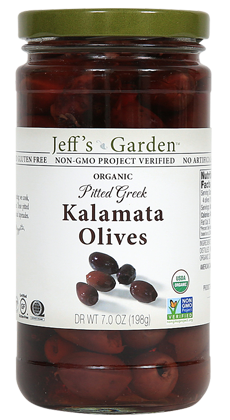 Organic Pitted Greek Kalamata Olives