Prep Time: 10min | Total Time: 1 hour 10min | Serves: 8-10
Combine Jeff's Garden capers and sundried tomatoes with chicken and mozzarella for 25 minutes for a quick weeknight meal the whole family will love.
Ingredients
Directions:
Place the chicken breasts between two pieces of plastic wrap and gently pound them with a bottom of a skillet until thin. Layer the sun-dried tomatoes, garlic, and capers along the center of the breasts and top with the mozzarella. Fold one side of the breast over the filling and roll into a long tube, secure with a toothpick.
Season the chicken with salt and pepper and coat with the bread crumbs and bake in an oven-proof dish for 20 to 25 minutes at 350°F; cook until the chicken is no longer pink. Allow the chicken to cool for 2 to 3 minutes before slicing or cutting in half.
Related Products

Sun-Ripened Dried Tomatoes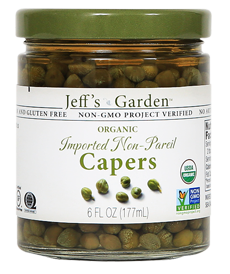 Organic Imported Non-Pareil Capers