Prep Time: 10 min | Total Time: 10 min | Serves: 4
Ingredients
1 tablespoon olive oil
1-10 oz. package frozen chopped spinach, thawed
¼ cup cream cheese, room temperature (2 oz)
2 cups shredded mozzarella cheese (6 oz)
1 cup shredded cheddar cheese (5 oz)
¾ cup shredded parmesan cheese (2 oz)
1-6.5 oz. jar Jeff's Garden Marinated Artichoke Hearts, drained and coarsely chopped
2 teaspoons minced garlic (about 2 medium cloves)
1/3 cup sliced green onions½ cup thinly sliced Jeff's Garden Golden Peperoncini (about 10 peppers, drained, stems removed)
Directions:
Heat oven to 400℉. Oil a shallow 1-quart oven-proof dish with the olive oil.
Thoroughly drain the thawed spinach and press until there is no excess moisture.
Combine all ingredients except the baguette in a medium bowl and mix well. Season to taste with more salt if necessary.
Spoon the mixture into the prepared dish and spread evenly.
Place in the oven and bake 10-15 minutes or until the dip is bubbly and heated through.
Chef's Note: The dip can be made several hours ahead and stored in the refrigerator. Remove from the refrigerator at least one hour before heating so the dip can heat evenly.
Related Products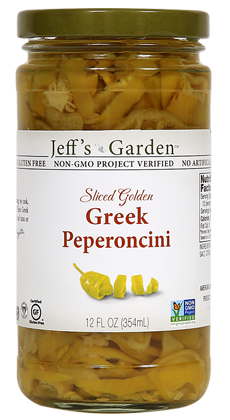 Sliced Golden Greek Peperoncini