Prep Time:  5min | Total Time: 25min | Serves: 6-8
Ingredients
2 (16 oz) jars of your favorite Jeff's Garden Olives, (we used Pitted Castelvetrano Olives  and Organic Pitted Greek Kalamata Olives), drained
¼ tsp. whole fennel seed
1/8 tsp. dried oregano
1/8 tsp. dried chili flakes
3 Tbsp. extra virgin olive oil
1/8 tsp. fresh rosemary, fine chopped
1 Tbsp. fresh parsley, fine chopped
1 orange, with 3 shavings of citrus peel
Directions:
Preheat oven to 475°.
In a medium mixing bowl, combine the olives, fennel seed, oregano, chili flake, and olive oil. Mix all so they are coated with herbs and oil. Place mixture onto a foil-lined baking sheet. Bake for about 15-20 minutes or until olives begin to slightly blister, making sure not to burn the dried herbs. In the same mixing bowl, add the fresh rosemary and parsley along with the orange zest.
When olives are removed from oven, add to the bowl and mix to coat. You may drizzle a little more olive oil onto the mix and serve warm.
Related Products

Pitted Castelvetrano Olives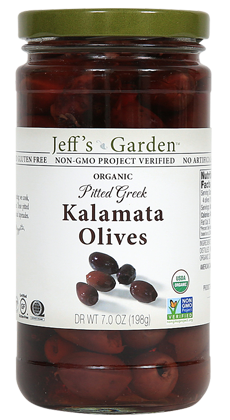 Organic Pitted Greek Kalamata Olives