Prep Time: 5 min.  |  Total Time: 25 min.  |  Serves: 6
Ingredients
½ baguette, cut into ½" slices
1/3 cup Extra Virgin Olive Oil, divided
1 cup whole milk ricotta
1 teaspoon minced fresh rosemary
1 cup seedless red grapes
Fresh thyme leaves to garnish
Salt and fresh cracked black pepper
Directions
Heat oven to 450°F.
Brush both sides of sliced bread with olive oil and place onto baking sheet. Bake for about 7 minutes or until toasted and crispy. Remove from oven and set aside.
In a small bowl, combine the ricotta and rosemary. Season with a little salt and freshly cracked pepper and set aside.
On another baking sheet, add the grapes and olives, drizzle with a tablespoon of olive oil and toss to coat evenly. Roast in the oven in 5 minute intervals for about 15-20 minutes.
Each 5 minutes, shake the pan to get even roasting. Remove from oven once olives are slightly blistered and grapes begin to get soft and juicy. Let set for about 5 minutes, and once cool enough to handle, cut grapes and olives in half.
On each crostini, add about a tablespoon of ricotta and spread evenly. Add a spoonful of olives and grapes to each and top with a sprinkle of fresh thyme, drizzle of olive oil, and a light sprinkle of freshly cracked black pepper. Serve immediately.
Related Products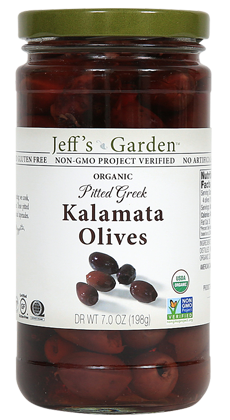 Organic Pitted Greek Kalamata Olives