Prep Time: 8min | Total Time: 30min | Serves: 10
Ingredients
6 ears of corn on the cob, husked and cleaned
1 poblano pepper, cut in half and deseeded
½ red onion, diced
½ c. mayonnaise
½ c. crumbled Cotija cheese, plus some for topping
½ c. Jeff's Garden Diced Tamed™ Jalapeño Peppers, chopped
1 lime, juiced
½ tsp. chipotle chili powder, plus some for topping
Chef's Note: You can substitute with our Jeff's Garden Sliced Tamed™ Jalapeños, roughly chopped.
Directions:
Preheat grill on high heat.
Grill corn for about 15-20 minutes on the hot grill turning frequently until nice and charred and corn is cooked. Grill poblano pepper and red onion for about 10 minutes, turning frequently until charred and tender. Remove from grill and set aside.
Once cool enough to touch the grilled vegetables-cut the corn off the cob and place into a medium sized mixing bowl. Dice the onion and poblano and add to the corn. Add mayo, Cotija cheese, jalapeno peppers, lime juice and chili powder. Stir to combine. Season with salt and pepper to taste.
Turn oven on broil. Place corn mixture into an oven proof baking dish, top with a sprinkle of Cotija cheese and light sprinkle of chili powder. Broil about 5 minutes, keeping a close eye on the dish. Serve immediately with chips.
Related Products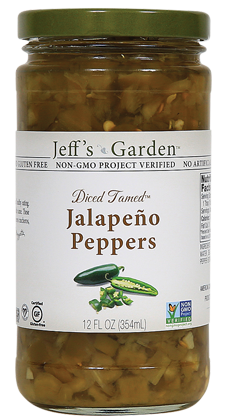 Diced Tamed™ Jalapeño Peppers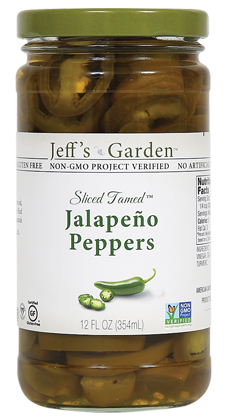 Sliced Tamed™ Jalapeño Peppers