Prep Time: 10 min |  Total Time: 60 min  | Serves: 6
Ingredients
6 medium sized russet potatoes, washed and scrubbed clean
Extra virgin olive oil for drizzling
3 ounces pancetta, (can substitute bacon)
1 c. shredded mozzarella
1/3 c. feta crumbles
½ c. Jeff's Garden Sliced Golden Greek Peperoncini, plus 2 tablespoons brine reserved
½ c. Jeff's Garden Roasted Red Pepper Strips roughly chopped and squeezed with a paper towel
¼ c. sliced green onion
1/3 c. Greek yogurt
Salt and freshly cracked black pepper
Directions:
Preheat oven to 400°F.
Place potatoes on a sheet tray and drizzle with olive oil.  Rub oil all over potatoes to thoroughly coat. Bake for about 40 minutes, turning over half way through, and remove from oven when a knife is easily inserted into the potato.
Once the potatoes are cool enough to touch, cut in half lengthwise and scoop out most of the potato.  If skin is not as crispy as desired, place the skins, cut side down, back on the sheet tray and broil in the oven for a few minutes until crispy. Remove from oven and set aside.
Place the sliced pancetta on a foil lined sheet tray and bake about 10 minutes or until desired crispiness. Remove from oven, place pancetta on a paper towel lined plate and set aside.
Next, season the inside of the potatoes with salt and pepper.  Sprinkle the cheeses into the potato skins, add the peperoncini and roasted bell peppers.  Place back into the oven until cheese is melted, about 5 minutes.
Sprinkle potatoes with green onion and crumble the crispy pancetta over the top.
In a small mixing bowl, stir the Greek yogurt with two tablespoons of peperoncini brine and drizzle over the loaded potatoes.  Serve immediately.
Related Products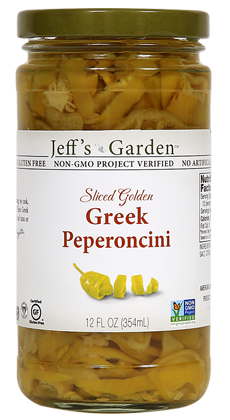 Sliced Golden Greek Peperoncini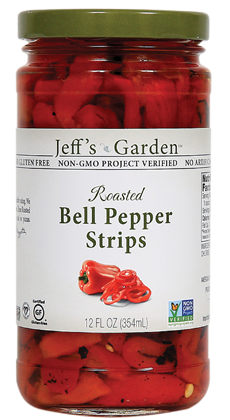 Roasted Bell Pepper Strips