Prep Time: 10 min |  Total Time: 25 min  | Serves: 8
Ingredients
2 eggs, beaten
1 c. buttermilk
½ c. whole milk
4 tsp. butter, melted
2/3 c. Jeff's Garden Diced Tamed™ Jalapeño Peppers, drained
½ c. all-purpose flour
1 ½ c. corn meal
1 ½ tsp. baking powder
½ tsp. baking soda
2 Tbsp. cilantro, finely chopped
½ tsp. salt
Directions:
Preheat oven to 425°F. In one bowl, mix eggs, buttermilk, milk and butter. Stir in jalapeños.
In another bowl, mix flour, corn meal, baking powder, baking soda, cilantro and salt.
Fold wet mixture into dry mixture. Pour into a buttered baking dish. Bake for 20 minutes.
Rest and allow corn bread to cool. Cut into squares or wedges and serve with butter or a black pepper-flavored honey.
Related Products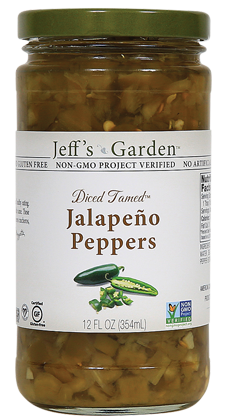 Diced Tamed™ Jalapeño Peppers