Prep Time: 5min  |  Total Time: 10 min  |  Serves: 8
Ingredients
1 c. sliced onion
1 jar of Jeff's Garden Roasted Bell Pepper Strips, drained
3 minced Garlic
5 Tbsp. olive oil, divided
2 tsp. fresh basil, julienned
½ tsp. garlic salt
1 loaf (1 pound) French bread
1 c. (4 oz.) shredded mozzarella cheese
Directions:
Preheat broiler.
In a skillet, sauté onion, Roasted Bell Pepper Strips, garlic and olive oil. Add basil and garlic salt set aside.
Cut bread into 1-in. slices and place on an ungreased baking sheet. Broil each side for 1-2 minutes or until lightly browned.
Brush remaining oil on one side of bread.
Top with pepper mixture and cheese. Broil for 2-3 minutes or until cheese is bubbly and your toasty appetizer is ready!
Related Products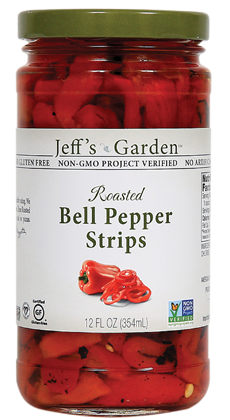 Roasted Bell Pepper Strips