Prep Time:  5 min | Total Time: 15 min | Serves: 6-8
Ingredients
1 loaf rustic bread sliced to 1/2″ slices
Extra virgin olive oil
2 garlic cloves
3-4 Heirloom tomatoes, sliced and seasoned with salt and pepper
6 fresh basil leaves
Burrata cheese, you can also use fresh mozzarella or ricotta
½ c. Balsamic vinegar
1 tsp. brown sugar
Salt and pepper
Directions:
Heat grill to high heat and drizzle bread with olive oil. Grill both sides of bread until charred and crispy (you can also toast the bread in the oven). Use whole garlic cloves to rub over toast and season bread with a little salt immediately after being grilled.
To make the balsamic glaze, add the balsamic and brown sugar to a small saucepot and simmer over medium-high heat until syrupy consistency. Top grilled bread with a layer of Roasted Red Peppers, tomato, freshly torn basil and sprinkle on top of tomatoes.
Top with cheese, drizzle with extra virgin olive oil and some flakey salt on top of the cheese. Drizzle balsamic glaze and serve.
Related Products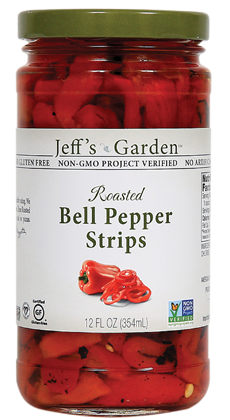 Roasted Bell Pepper Strips