Prep Time: 30 min.  |  Total Time: 2 hrs.  |  Serves: 8-10 (about 3 puffs per person)
Ingredients
4 oz. butter (softened)
1 c. all purpose flour
2 c. shredded sharp cheddar cheese
1/2 tsp paprika
1/4 tsp ground cumin
1/2 tsp hot sauce
1 Tbs water
1 jar Jeff's Garden Jalapeno Stuffed Olives (drained)
*Calculated ingredients may not always be as accurate as the original recipe.
Directions
In a mixing bowl, beat the butter with an electric mixer for several minutes. Add in the flour, cheese and spices.
Mix for one minute, add the hot sauce and water and mix until combined. Transfer the dough to a piece of plastic wrap and flatten into a disk. Chill in the refrigerator for one hour.
Once the dough is chilled, scoop one tablespoon at a time. Press the dough flat in the palm of your hand. Place an olive in the center and wrap the dough around the olive and roll into a ball shape. Once wrapped, chill the balls for 10 minutes in the freezer.
In the meantime, preheat your oven to 400º F.
Bake for 20 minutes, or until golden brown. Serve this appetizer warm.
Related Products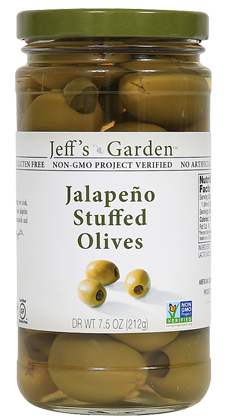 Jalapeño Stuffed Olives